Simplify Your AV Infrastructure with Crestron Room Solutions
Streamline the Management of Meeting Spaces, Audio, and Video Assets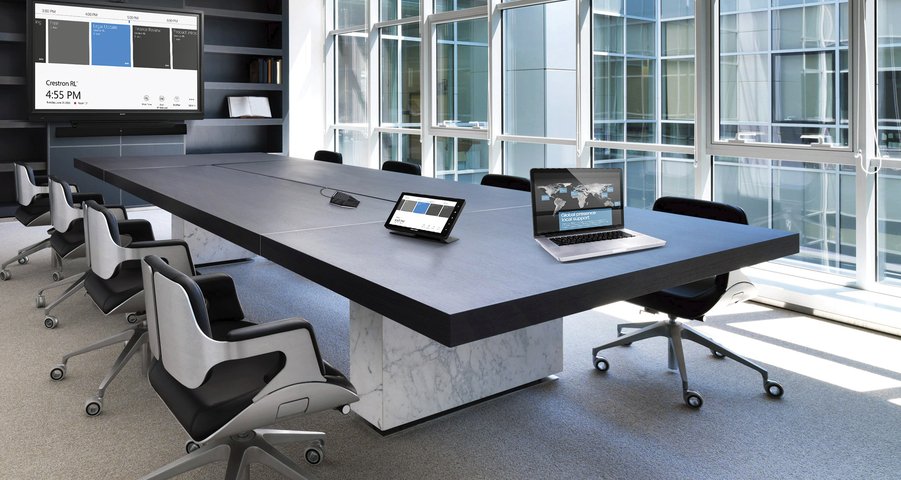 Today's office environments are changing. With the ongoing effects of the pandemic and new experience with remote workers, businesses are reevaluating office spaces for a future when not everyone will be in the office at the same time. As a result, the modern office needs to be well equipped with a high-quality, flexible audio and video collaboration setup so staff in offices and remote can communicate and collaborate seamlessly.
To accomplish this, you want solutions that present consistent, intuitive interfaces, powerful scalability from one room to entire campuses, and simplified management. One company is doing just that. Crestron, one of the oldest names in home and commercial automation, offers complete solutions for managing your AV infrastructure. No matter what the future of hybrid works looks like for your Clayton, MO company, Elite Technology Solutions, is your local Crestron dealer who can tailor these solutions to your needs. Read on to learn how Crestron can optimize and manage your collaboration infrastructure.
SEE ALSO: How to Save Energy with Building Automation Systems
Crestron Room Control
Crestron offers a full line of solutions for managing meeting spaces from small rooms to large. Solutions like Crestron Flex and Mercury unify and simplify all audio and video features in meeting spaces. Today's workforce uses a variety of devices to collaborate, and Crestron makes it easy to use them. Apps on smartphones let staff start conference and video calls from their smartphone. Crestron AirMedia allows for wireless connection of devices to the room displays easily with no hunting for the right cable. Room scheduling is integrated into the most used productivity platforms like Microsoft Office and Google. Crestron room systems can also integrate with popular video conferencing and collaboration platforms like Microsoft Teams, Slack, Zoom, and Cisco WebEx to fit with all the tools you may need. 
Centralized Management
If you have many meeting spaces and rooms, management of facilities becomes more difficult. Crestron XIO Cloud was designed to unify the management of meeting facilities for the modern workplace. XIO Cloud can cut deployment time dramatically by allowing room configurations for many spaces simultaneously for remote deployment. When problems occur, your support staff can remotely diagnose and fix issues without physically going to the room, saving on support staffing. XIO Cloud also collects data on device usage, so you know how your facilities are used and can continually optimize your space and equipment needs accordingly. 
Intuitive Control
No tools enhance productivity if they're difficult to use. Aside from offering refined touch screen interfaces in their room solutions, Crestron realizes that workers are used to the ease of use and convenience of apps on their mobile devices. In today's health-conscious environment where minimizing touchpoints may be necessary, Crestron's Mobile Room Control offers your staff intuitive, powerful, and convenient control of meeting room facilities. The app allows for control of lights, connections to AV displays, starting a presentation, and more with just a few taps. For security, administrators can control what room options are available on Mobile Room Control and require authentication to get access. Crestron's Mobile Room Control can empower your staff with the same ease of use for in-office collaboration as they are accustomed to when working remotely.

Partner with a Crestron dealer to manage your AV and collaboration infrastructure more efficiently. Get started by calling us today at (636) 939-4474, schedule a showroom visit, or reach out on our contact page. We look forward to working with you!

No video selected.