Commercial Environments
One size does not fit all for integrated technology systems in a commercial space. Depending on industry and your unique business needs, we create a solution giving you simple control of one or multiple sub-systems with access from centralized, localized or a combination of locations. Smart technology will set you apart and put you a step above in efficiency and the experience of your space. From one-touch video conference tools to church sound systems, explore the possibilities commercial automation can bring to your St. Louis business.
Churches Boardroom / Conference Room Gymnasium/Outdoor Sports Fields Classroom / Auditorium Restaurant / Bar Retail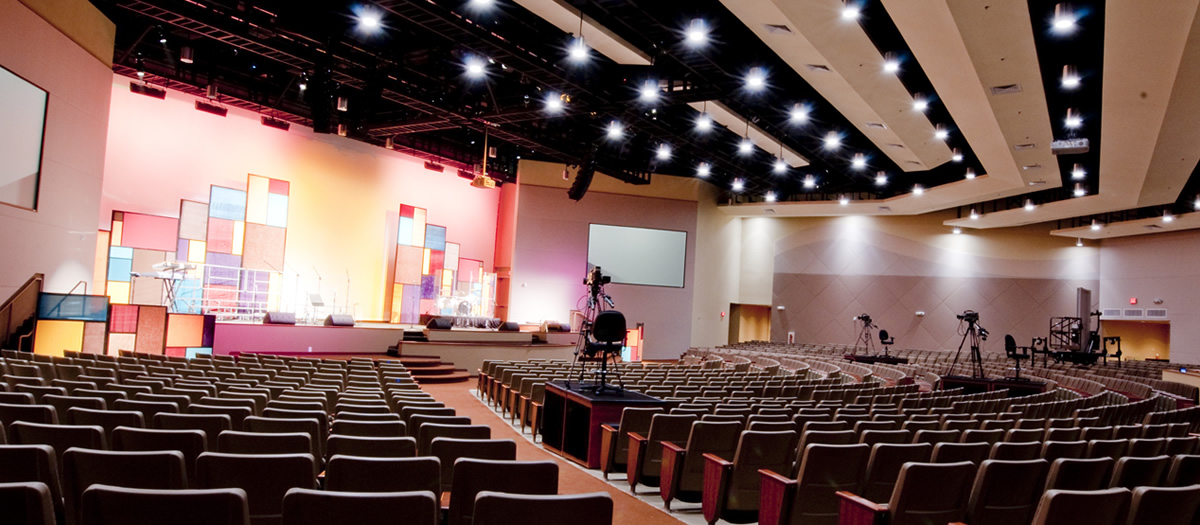 Churches
Anyone who has ever been touched by a sermon or a hymn knows sound plays a pivotal role in any worship service. With a properly designed sound system, a sermon can reach the back of a church with ease and music can impress with clarity and impact. Using sophisticated computer simulation and measurement tools, we will analyze your worship space and your needs to deliver a sound system tailored to meet your unique situation.

We are experts in other areas of technology that directly affect churches and other houses of worship. This includes video systems, lighting and lighting control, acoustics, camera systems, video streaming, networking, Wi-Fi, and control/automation. We understand digital video and the best ways to display, distribute and control it. Lighting/lighting control are important to any worship space. Elite will use the latest technology in LED fixtures and lighting control for house and stage lighting.

We have 30+ years of experience dealing with all types of spaces and styles of worship. Whether you need a system for an existing church or for a new one still in the planning stages, Elite is the one to call. Small or large, your congregation deserves the best at the best price. Our systems are designed to be reliable and easy-to-use.
Common Solutions
Professional Sound Reinforcement
Acoustic Treatment
Video Display and Distribution
Video Cameras and Streaming
Lighting and Lighting Control
Wi-Fi and Networking
Control and Automation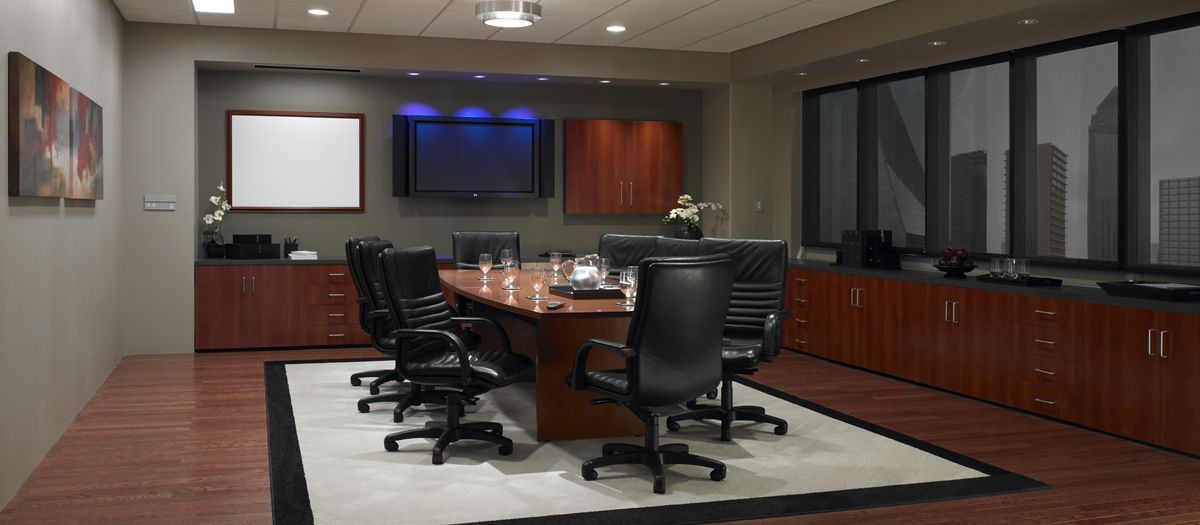 Boardroom / Conference Room
Don't waste time in meetings trying to launch a presentation. Automation makes it possible for virtually everything in your business to work in harmony, from lights to thermostats, TVs to projectors, audio systems to communication, and much more so your ideas of control can be as unique as your business. A boardroom or conference room stuck in the old century surely can't meet the efficiency, productivity, and elegance of a boardroom integrated with the most up-to-date systems modern technology has to offer. Gather around, and "Get It Done" in class with a single easy-to-use touch device to control the room for multi-media presentations, telepresence or video conferencing.
Common Solutions
Integrated Room Control
Audio / Video
Automated Window Treatment
Video Conferencing
Networking
Lighting Control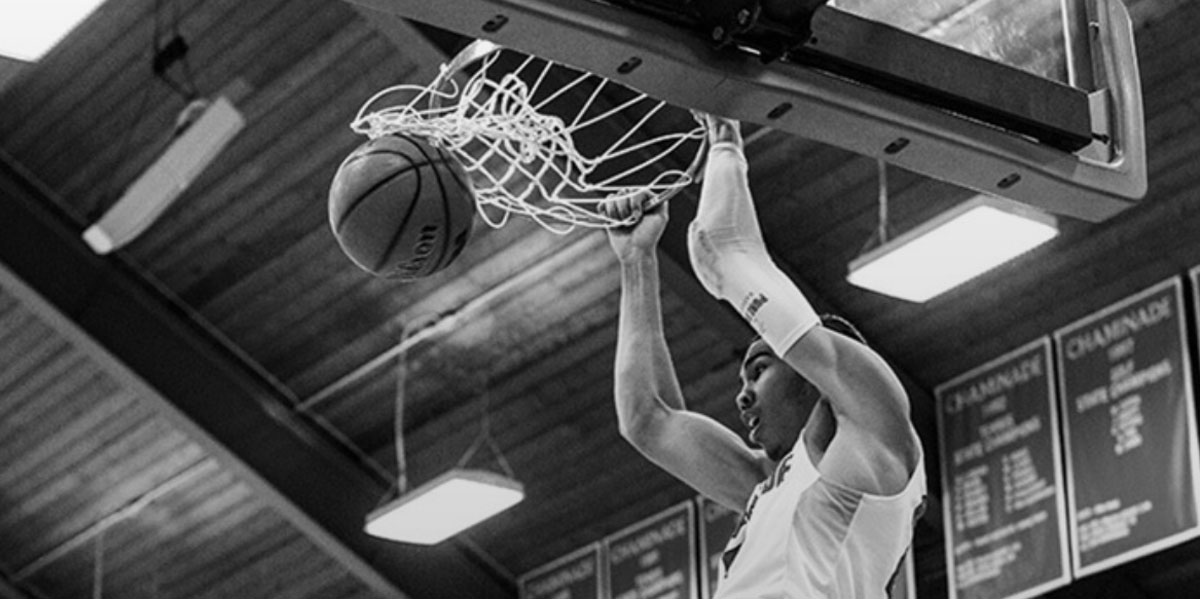 Gymnasium/Outdoor Sports Fields
Gymnasiums and other sports venues are very important to educational institutions. They are typically the largest spaces on campus and are used for multiple purposes, including sports competitions, practices, assemblies, dramatic performances, musical performances, graduations and so on. The importance of a good sound, video, or lighting system for these spaces cannot be over-stated. Let us put our 30+ years of experience designing and installing technology solutions to work for you. Difficult acoustics? We have a solution. Non-technical staff/students using the system daily? We can make it easy-to-use and reliable. Need to accommodate lots of different situations? We have digital solutions to make it easy. Outdated lighting and no control? LED solutions are our specialty. Can't hear the players name or music at a football, soccer or baseball game? We are experts in outdoor sound.
Common Solutions
Professional Indoor Sound Systems
Professional Outdoor Sound Systems
Acoustic Treatment
Video Presentation
Lighting/Lighting Control
Control and Automation
Classroom/Lecture Hall
Capture your audience by outfitting any classroom or auditorium with a state-of-the-art integrated system. Make systems easy to use and reliable for every teacher, professor or presenter so they don't need to call your IT staff on a continuing basis. Designing a smart approach to systems integration in an auditorium requires expert knowledge of how each system communicates with each other, thorough knowledge of devices and applications, and the best approach to achieving the overall objective for the project. Auditoriums, lecture halls and classrooms rely on great audio/sound systems, projectors, computer/laptop display modes, screens, wireless connectivity, microphones, lighting control, and more. To communicate effectively from the front of the room, the entire room should be integrated with sufficient technology to support every lecture, presentation, or performance.
Common Solutions
Integrated Building Technology
Audio / Video
Presentation Technology
Lighting Control
Acoustics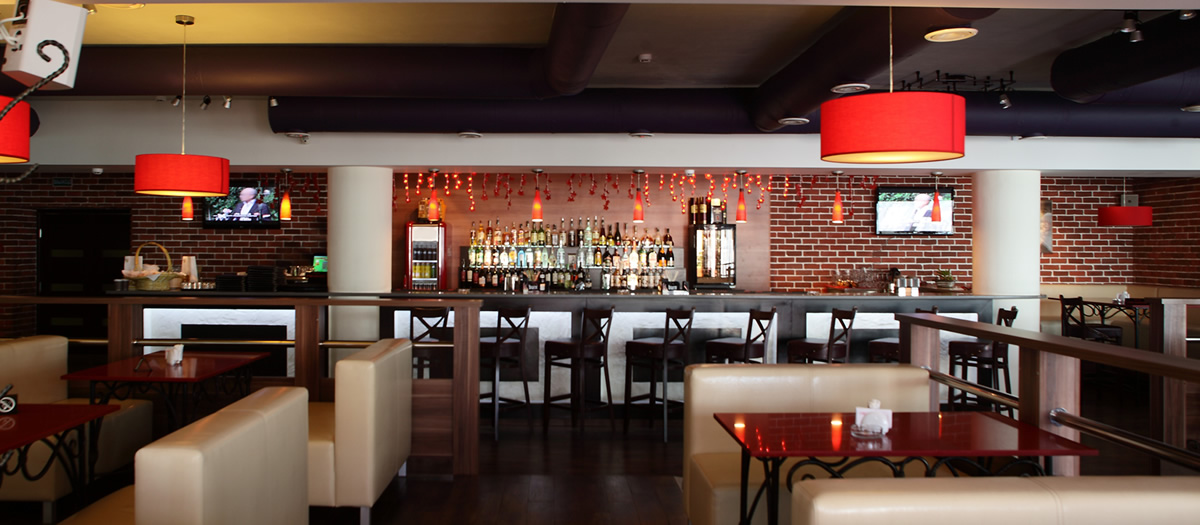 Restaurant/ Bar
Elevate the ambiance and create a memorable experience for your guests with smart technology for audio, video, lights, window treatments, HVAC, and security. Calm loud, noisy spaces so clients can enjoy the music and still communicate with one another with proper acoustic treatments. From a centralized touch screen, easily deliver entertainment on multiple TVs, each utilizing different channels and music from multiple sources. Adjust house lights effortlessly with one press of a button for lunch or dinner, or have lights automatically adjust over time without lifting a finger as your space transitions from day to night. At closing time, it takes one press on a touch screen to power everything down, lock doors, and arm the security system.
Common Solutions
Smart Building Technology
Audio / Video
Lighting Control
Acoustic Treatment
Surveillance
Networking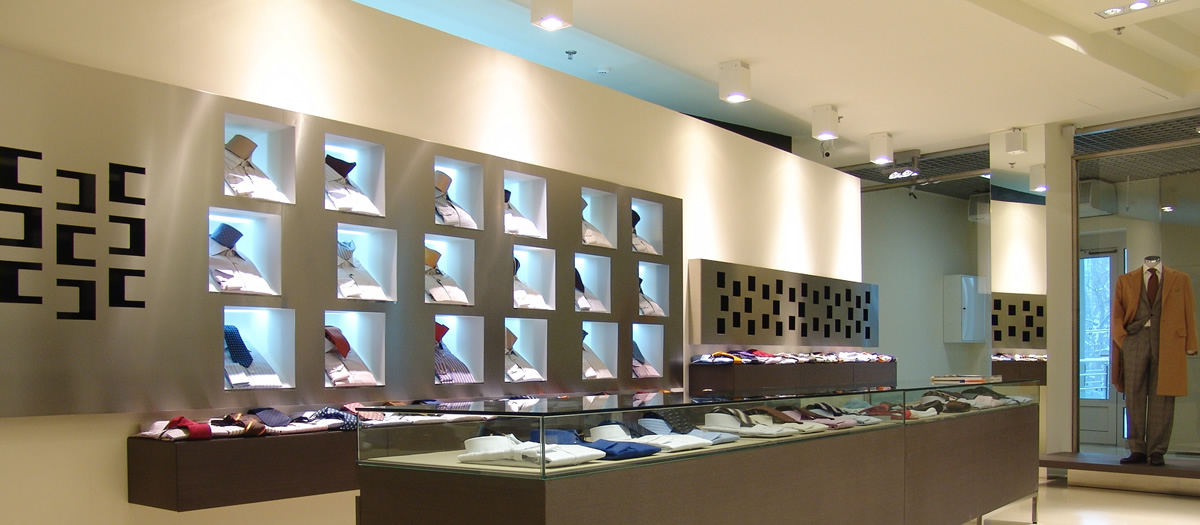 Retail
Create a memorable shopping experience with music, lighting and video. As a design/build systems integrator, we can work with you and/or your designer to make your vision a reality with a customized technology solution. Centrally monitor, manage and control architectural and interior lighting, thermostats, security, digital signage and distributed audio and video throughout the store. Lighting plays a big role in retail spaces, and intelligent and intuitive control visually enhances displays and merchandising. Managers can use an easy-to-use touchscreen or keypad for control and scheduling maintenance based on real-time monitoring. Access security cameras and get alerts if something isn't right, whether you're in your store or on the other side of the world. Distribute content to video displays and digital signage with ease. At opening or closing time it takes just one touch to power everything on/off, arm/disarm security, and set the temperature.
Common Solutions
Lighting and Lighting Control
Acoustics
Music Systems
Video Systems
Control and Automation
Video Surveillance
Wi-Fi and Networking