High End, High Fidelity, and High Style – the KEF LS50 Collection
Who Says High-Performance Speakers Have to Be Big?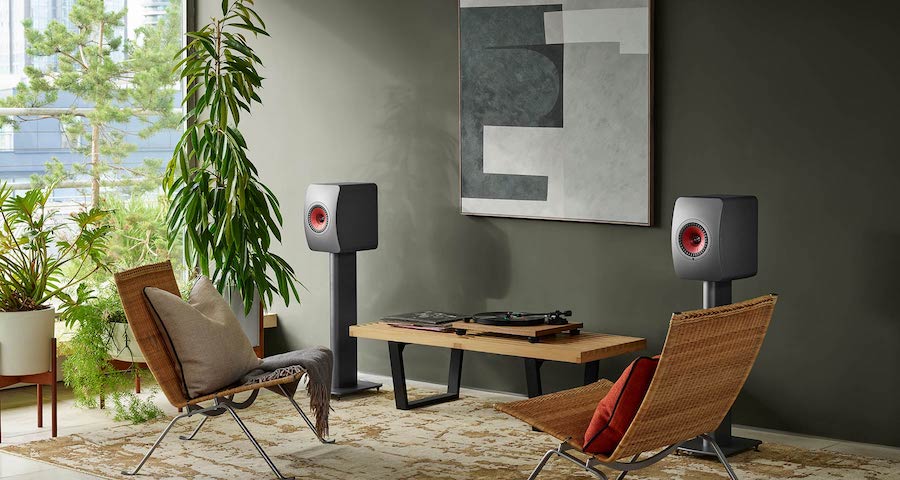 Eight years ago, KEF introduced the LS50, which took the audio world by storm. It was a compact speaker with big sound and surprising clarity, fidelity, and impact for its size. Naturally, competitors rushed to copy this new success.
What made the LS50 so popular was the compact design that could fit anywhere and deliver the type of performance that satisfied serious audiophiles that might be tight on space. The LS50 also performed admirably for movies and TV sound for those that only needed (or might only have room for) a two-channel setup.
Recently KEF has updated the LS50 for even better performance. In typical KEF fashion, it's an evolution of a groundbreaking high-end audio product, not a revolution. Read on to see if the new LS50 is right for your next compact two-channel system in Chesterfield, MO.
SEE ALSO: How KEF is Bringing More to High-End Audio in 2020
The KEF LS50 Meta
The big news in the KEF LS50 design is the Meta technology, short for Metamaterial Absorption Technology (MAT). KEF partnered with a materials and acoustics company to develop a new feature not previously employed in a loudspeaker to eliminate unwanted resonances.
MAT is a circular, plastic-like structure that sits behind the tweeter to absorb distorting sound that radiates from the rear of the cone into the cabinet. It is carefully engineered with different channels – similar to a maze – that are specifically tuned to absorb and diffract specific frequencies. KEF says that MAT can absorb 99% of unwanted resonances instead of 60% with other methods.
MAT isn't the only refinement to the new LS50. The speaker incorporates the 12th generation of KEF's trademark Uni-Q driver and an improved motor system. The new dedicated S2 speaker stands not only match the sleek modern look but also provide other sound-dampening features for improved sonics.
The result of these refinements is to make an already great speaker, one awarded the "speaker of the year" honor from Steve Guttenberg (the Audiophiliac) when it debuted, even better. Some reviewers have suggested that the new LS50 is even cleaner and has better tonality than the KEF Reference R3!
Wired or Wireless – Your Choice
While the LS50 is a compact speaker, it needs good, powerful electronics to sound its best. We recommend a high-end model like the new Marantz Model 30 integrated amplifier or something in a similar class to fully bring out the detail and impact of the music. But if you are looking for an all-in-one, more compact approach, you can get all the magic of the LS50 sound in the self-powered LS50 Wireless II.
With the LS50 Wireless II, you get the benefits of the LS50 sound, along with convenience or wired and wireless connectivity for all your sound sources. Wireless compatibility starts with both Apple Airplay2 and Google Chromecast support to support IOS and Android devices equally and participate in whole-home audio systems.
The built-in 24bit/384kHz DAC handles MQA for high resolution streaming, as well as DSD256 and Roon Ready player support via a firmware update. Unlike other wireless speakers, the LS50's can connect wirelessly together via a high-resolution wireless connection for easy installation. Both woofers and tweeters get their own amplifiers, with bass handled by muscular Class D power and the tweeter getting a more traditional class A/B amp for smoothness and detail.
The LS50 Wireless II sports the latest wired connections to accommodate your TV and turntable, forming a complete, simple to operate, audiophile-class sound system. Available in a variety of colors with matched stands, they'll make a visual as well as a sonic impression in your living space.
Upgrade your sound with the KEF LS50 collection or other high-end audio brands available from Elite Technology Solutions. Call us today at (636) 939-4474, schedule a showroom visit, or reach out on our contact page. We look forward to working with you!