Small But Mighty: Introducing the New KEF KC62 Subwoofer
Looking for the Perfect Complement to the KEF LS50? This is It.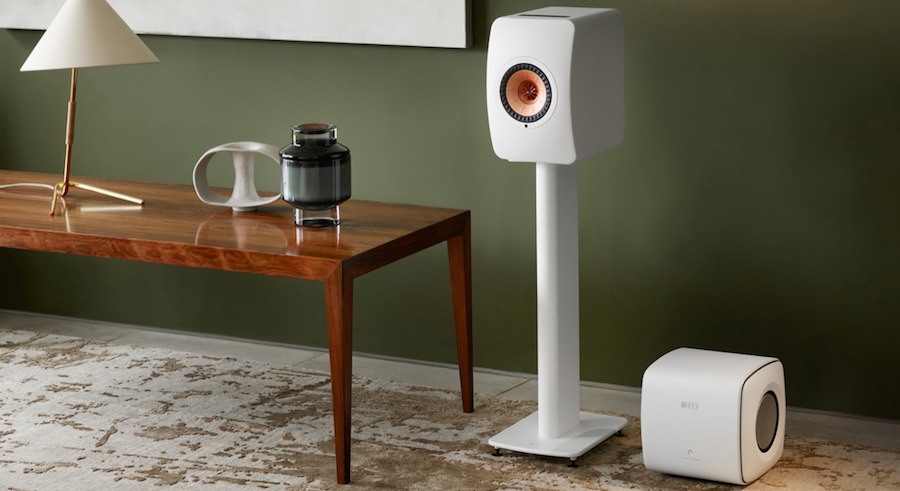 As a longtime KEF dealer, and the only Elite KEF dealer in the St. Louis area, Elite Technology Solutions is always excited to introduce new products. Several months ago, we wrote about the KEF LS 50 Meta update, which has high-end audio reviewers raving about how KEF managed to improve on the already stellar sound of the original LS50. 
The LS50 was a revolutionary speaker when first introduced back in 2012, bringing true audiophile sound quality to a small, contemporary design and package. It has since spawned many competitors too. KEF continues to keep the LS50 line fresh with evolutionary innovation, and now it is doing the same with a complementary subwoofer - the new KC62. Read on to learn more about this small but mighty new sub.  
SEE ALSO: High End, High Fidelity, and High Style – the KEF LS50 Collection 
Design
Most people think you need a big box and big drivers to get big bass out of a subwoofer. KEF has always been known for extracting outsized performance from small subwoofers, but with the KC62, they've gone even further. They have used a patent-pending technology they call Uni-Core to design a dual driver force canceling subwoofer. The unique aspect is that both drivers share the magnet structure, allowing KEF to reduce the size of the cabinet by a third while enabling greater driver excursion for surprising performance. The drivers each have 500 watts of cool-running, compact Class-D amplification for massive dynamics to deliver deep, tight music bass and the explosive special effects from movies and games. 
On the outside, the KEF62 is beautifully crafted with a curved cabinet of extruded aluminum, exuding a style that eludes most boxy subwoofers. Available in Carbon Black and Mineral White, its modern design will blend with most décor and perfectly complements an LS50 system. Connectivity is plentiful to match any setup, with line and speaker level inputs and compatibility with the optional KWI wireless adaptor for a clean, no-cable installation.  
Performance

 

KEF speakers strive for aural accuracy, and the KC62 is no exception. The company employed an array of innovative technologies to deliver powerful bass out of this 10-inch cube. Features like Smart Distortion Control and the P-Flex folded origami driver surrounds enable this relatively tiny subwoofer to dig deep all the way to a rated 11hz! This powerful sub delivers its punch flexibly, equally adept when placed along a wall, a corner, or even in a cabinet. With five preset room equalization modes for easy setup, it fits and performs in practically any home space.  

 

Are you looking for a subwoofer that's all muscle without the bulk? The KEF KC62 may be the perfect fit for your luxury condominium or small listening room. To learn more, call us today at (636) 939-4474, schedule a showroom visit,  or reach out on our contact page. We look forward to working with you! 

No video selected.