What You'll Want to Know About Outdoor TVs
Did You Know Outdoor TVs are Waterproof?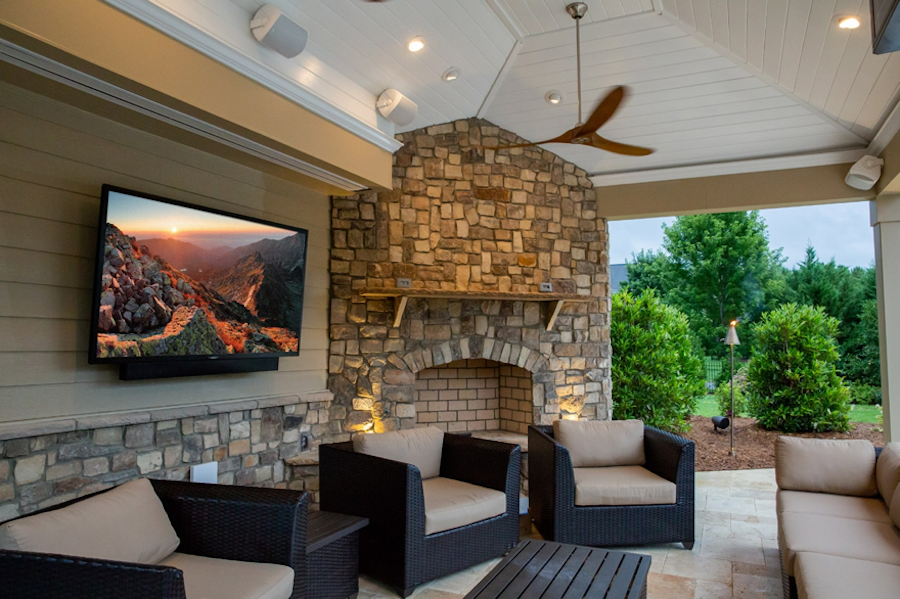 Some people may not even know that outdoor TVs exist. How is an outdoor TV different? The most important aspect is their resistance to the elements. An outdoor TV must withstand rain, humidity, heat, cold, and even infiltration by insects. Beyond that, outdoor TVs also need screens that can minimize reflections from ambient light and get bright enough for daytime viewing in lots of light.
Some people install regular indoor TVs in covered patio areas. Should you do that? We don't recommend it. Most indoor TVs are made for controlled temperature conditions. Scorching summer temperatures could cause it to overheat, and freezing temperatures might render it inoperable for the next season. And indoor TVs are not prepared for outdoor humidity, not to mention that they can't get wet in any way.
What else do you need to know about outdoor TVs for your Frontenac, MO, home? Keep reading for more.
SEE ALSO: Spend More Time Outdoors with an Outdoor Entertainment System
TVs in Shaded Areas
Did you know some outdoor TVs are made explicitly for shaded areas? That's because if you want to use a TV in a brightly lit, sunny location, you might need a different level of brightness and a screen that doesn't reflect light like a mirror. This isn't much different than indoors, where some TV panels perform better in brightly lit rooms that others.
One of the vendors we work with, Sunbrite, offers TVs made for shady or partially shaded areas. These TVs provide as much as 50% more brightness than comparable indoor models for a vivid picture outdoors with less control over ambient light. And the latest 4K resolution and HDR support are present for sharp, high-contrast image quality.
Other distinguishing touches make these TVs perfect for a covered patio. A weatherproof cable entry system uses thick gaskets to keep moisture and bugs out, and also offers a sealed compartment for attaching a media player stick. The IR sensor for remote control is cleverly protected in the sealed cable bay, and the remote control is weatherproof. The audio is not ignored either. 20-watt built-in speakers are included, and matching all-weather soundbars are available to add more punch to the sound.
TVs for Basking in the Sun
What if you want to work on your tan while you watch? Outdoor TVs have you covered there too. The Ultra Bright Series from Séura is one way to go. These weatherproof TVs feature screens with 1000 nits of brightness so that they can be viewed even in direct sunlight.
Adaptive Picture Technology adjusts picture settings to optimize image quality as lighting conditions change throughout the day. As these are designed for more exposed areas, Ultra Bright models can withstand temperature extremes of -40 to 140F, handy in our four-season Missouri weather. Ultra Bright models can go wherever you want them and can be used by a pool as they are impervious to splashing.
You might think that if these TVs are built like a tank, they must look like one too, but nothing could be further from the truth. Thin bezels and mirrored side panels give these TVs a contemporary, unobtrusive look that fits anywhere outdoors, and they mount easily with standard VESA mounts. The company also offers weatherproof slim, tilt, and full-motion mounts for ultimate flexibility. Séura also makes matched soundbars with Bluetooth connectivity for all its models, so the powerful sound matches the stunning picture.
Ready to bring your favorite shows outside with an outdoor TV? Since 1988, Elite Technology Solutions has been serving Missouri with outdoor entertainment solutions. Call us today at (636) 939-4474 or reach out on our contact page. We look forward to working with you!