How to Get Your Favorite Music Everywhere with Whole Home Audio
Discover the Ease and Fun of a Multiroom Audio System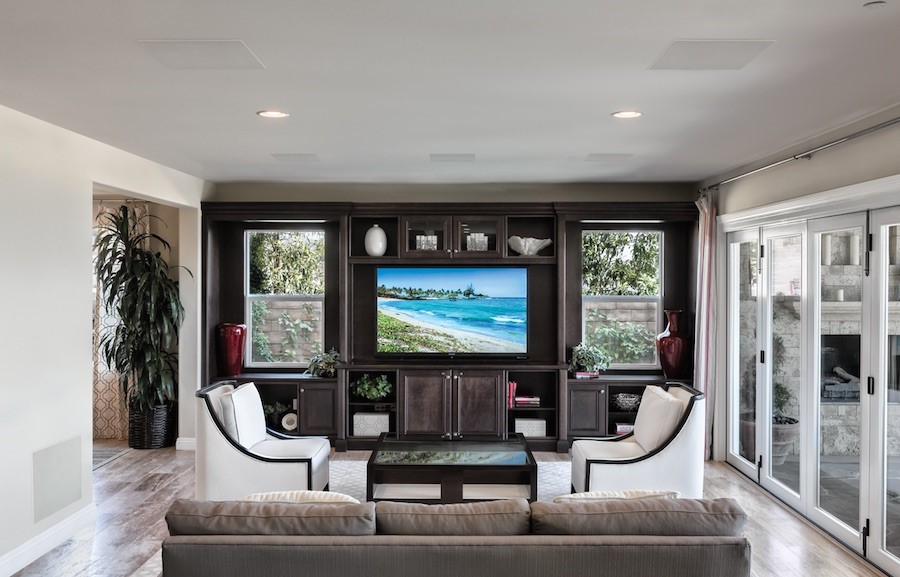 We know there are many options for getting music and audio in your home. You could have a separate stereo in each room. Or you can have a Bluetooth speaker. Or you could invest in a wireless speaker system like Sonos. Most TV soundbars have Bluetooth built-in, and some have other wireless streaming capabilities on top of that.
Those might all be fine options, but you may be a little more discerning as to the quality of your audio, how your system looks, and how you manage it. For those of you, a soundbar or wireless speaker is not going to be quite what you're looking for.
As a high-end audio integrator that works with renowned audio brands like KEF and Marantz, we know all about good sound quality. As a Crestron home automation integrator, we also understand built-in technology, elegant, simple experiences, and rock-solid technology that you don't have to fuss with. Marry those things together, and you get the integrated whole-home audio experience with the ease of use, sound quality, and aesthetic appeal that you want in your Town and Country, MO home. Keep reading to learn more.
SEE ALSO: Spend More Time Al Fresco with an Outdoor Entertainment System
What Are Audio Zones?
You may hear about multiroom audio, whole-home audio, or multi-zone audio systems. They are mostly the same things. First, you may not want or need every room or space to be part of a whole-home system. You can choose which zones - spaces or areas – to which you would route sound sources. For example, your kitchen, family room, master bedroom, and outside patios could all be zones for audio. With a multi-zone system, you can listen to a podcast in the kitchen while cooking, while the kids enjoy their music outside on the patio. Depending on the system, multiple sound sources – like streaming audio from services like Pandora and Spotify, or TV channels – can be routed to any set of zones.
What About Speakers?
We mentioned things like soundbars and wireless speakers for multiroom use, but they tend to tie you into certain brands that work with specific ecosystems, like Sonos. A professionally installed whole-home system by Elite Technology Solutions gives you the choice of speakers. A typical choice for a multiroom installation is architectural speakers, such as those from Sonance.
Options abound from background listening models to audiophile-worthy transducers. If you want practically invisible speakers, some can be recessed in walls and ceilings and finished to match with color and texture. For those with high-fidelity audio preferences, KEF makes several ranges of architectural speakers that satisfy those looking for superb sound quality.
How Does it All Come Together?
There are many ways to put together a whole-home audio system, but one of the best and most flexible comes from Crestron, our home automation brand partner. The Crestron Sonnex system is a sophisticated yet easy to use system that can scale to the largest properties. It can route as much as 24 sources of audio to as many as 74 zones. While you may not need that much, it's a modular system that can start smaller and grow with your needs.
It's also distributed and is easy to install as the audio can be routed digitally over standard network wiring cable to distributed amplifiers in the zones, making installation of speaker wire much more straightforward. The system can support the latest high-resolution formats, and the high-current amplifiers sport the types of specifications that make audio enthusiasts smile. In other words, the sound quality will rock in every zone.
Of course, no whole-home system is good if it's hard to use. The latest Crestron software is a model of simplicity, requiring just a few taps on a touchscreen to choose your source and play it wherever you want. Control volume all over or in one area, skip tracks, and more with ease.
Let Elite show you how to put together the ultimate, customized whole-home audio system for your Missouri home. To learn more, call us today at (636) 939-4474 or visit our contact page.